Food Trucks | Build Quality | Safety Standards | Our Customers | Pricing & Lead Times
Why are our food trucks considered premium?
Food trucks built at Silver Star Metal Fabricating are built smart and designed to last. We use only high quality materials and equipment in our builds. We have been doing this for a long time so it's no surprise when other builders see our products and take notes. It is with pride and confidence that we set the bar for quality in food trucks.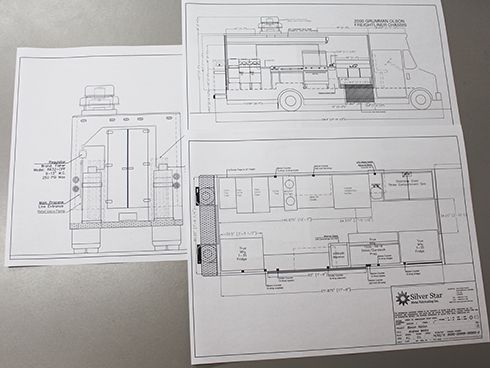 Detailed Design Layout Drawings
If you want to build it right you need to have proper design drawings. We have been doing this since 1984 and we know you can't just build something without knowing what and how. This is how mistakes are made. We take the time to sit down with the customer and create a set of layout drawings. These drawings are the foundation of all of our food trucks.
Because every truck is different, they are measured and drawn in CAD. The customer then chooses the required equipment which is then placed inside the layout. Using CAD allows us to easily move equipment around to find the ideal layout. Every item is drawn into the layout including the electrical outlets.
Because the customer has complete control over the layout, there are no surprises when the food truck is finished. Everything is custom made to the drawing specifications.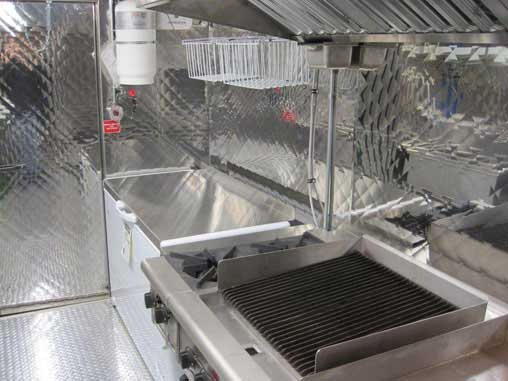 Walls and Ceiling
The walls and ceiling are steel strapped, fully insulated, vapour barrier sealed, and then clad with 24 gauge food grade quilted stainless steel. This sanitary surface allows you to easily wipe off grease, dirt, and grime. A non-porous hygienic surface such as stainless steel is essential for food preparation. Because its non-porous there are no places for dirt and germs to collect. The surface is smooth and wipes down easily with soap and water.
Some builders use FRP (Fibre-reinforced plastic). The problem with this material is that it is not sanitary, not fire rated, and is difficult to clean. Other builders use painted aluminum. This material is somewhat better since it offers some fire resistance but it is also not sanitary since the addition of paint makes the surface porous. Using painted aluminum also offers no reduction in labour or material costs. The primary reason for using painted aluminum is because it is easy to form without machinery. The painted surface also creates a personalized appearance which breaks the uniform look of stainless steel throughout the truck interior.
We always suggest a food grade stainless steel surface but we leave this choice up to the customer.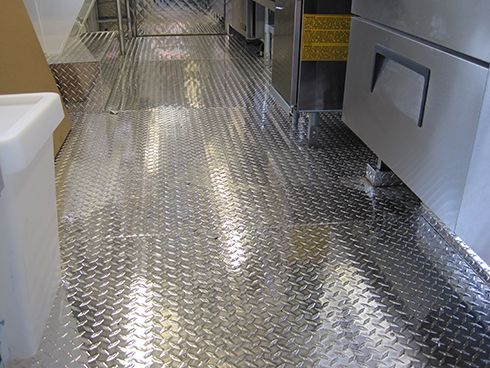 Aluminum Tread Plate Floors
The aluminum tread plate floors used on our food trucks is quite possibly the most important feature. Any food that falls on the floor must be cleaned. The hot oil from the fryers, griddle, and grill will definitely make its way onto the floor at some point in time. For this reason we cannot understand why other builders would use linoleum, vinyl, or any other material other than aluminum tread plate.
After only months of operating we have seen many interiors with linoleum or vinyl flooring that are ruined with burns due to hot oil splashing and dripping.
The aluminum checker plate floors can be easily cleaned with soap, a brush, and a garden hose. We know that these interiors can get dirty quickly, so cleanup should be a breeze.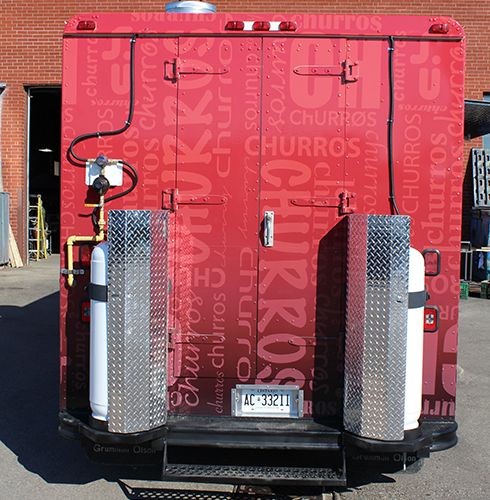 Rear Door
The rear door on our food trucks is the most underestimated design element for new owners. In our years of experience we know that supplying the truck throughout the day cannot be accomplished through the passenger side door. It would be quite a burden to have to carry boxes of food and drink through the passenger side door. Many food trucks also have a passenger seat that may have to be removed in order to access the rear interior with cargo. Why not have a rear door?
In our design, the rear door exists primarily as an emergency exit. Other food truck builders permanently close the rear doors and place the propane cylinders in a rear cage. This prevents the rear doors from being opened even under emergency situations. How can a crew exit the vehicle safely in the case of a out-of-control fire?
We have built a rear door into all of our latest food trucks. On some vehicles the rear door must be fabricated to replace the existing rollup door (garage style). In almost all cases the vehicle lighting and license plate must be adjusted so as to remain visible on the road.
This photo shows an example of a truck that did not require any major modification.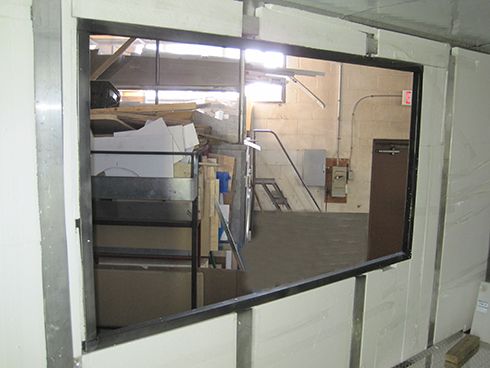 Steel Tubing Framing
Any cut-outs for windows, doors, exhaust hood, and ventilation are always framed using steel tubing. The steel tubing is welded together and secured to the aluminum body using rivets. Using a steel tubular frame keeps the body and ceiling panels rigid. When making cut-outs on the vehicle body you are essentially weakening the frame. By weakening the frame you made the entire vehicle flex and twist during transport. From a safety perspective this can be very dangerous. This is the reason why we reinforce all cut-outs with steel tubing.
Other builders will reinforce cut-outs using wood. Some builders won't reinforce the cut-outs at all! In our experience using wood for framing is a poor choice. Wood expands and contracts from the temperature fluctuations. It also begins to mould and rot when exposed to moisture created in this cooking environment. In our experience wood has no place in a mobile food product. Wood is acceptable for a home where the environment can be controlled, but it has no place on mobile food products.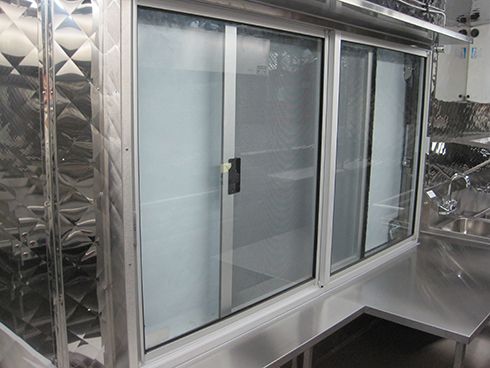 Aluminum Sliding Glass Window
The aluminum framed sliding glass windows installed on our food trucks are custom made according to the required vehicle cut-out. The laminated glass is rated for mobile usage. This is the same type of glass used for vehicles. Laminated glass is designed to prevent shattering into thousands of small pieces. The strong aluminum frame resists rusting and comes with a sliding screen.
Our windows are professionally installed. The cut-out opening is framed with steel tubing, undercoated (to prevent rust), and the window is securely screwed into the steel framing. The interior window frame is then clad with stainless steel for easy cleaning.
The sliding windows are also easily removable for high volume food service and cleaning. The sturdy interior window clasps hold the windows in place during travel.
Other builders have used Plexiglas windows which eventually fade and blur from sun exposure. The appearance of a clean truck will make the right impression on your customers.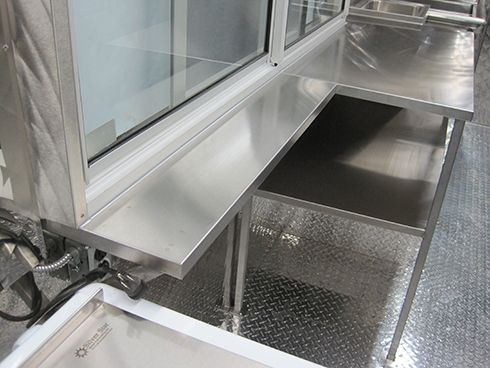 Stainless Steel Counters, Cabinets, and Shelving
As a metal fabricator we are able to design and fabricate all the metal components that put together the interior and exterior of a food truck.
We have been fabricating stainless steel countertops, cabinets, and shelving since 1984. These are our roots. Since 1984 we have acquired the machinery required to professionally fabricate these items. With our CNC machinery we are able to fabricate the items that other "garage" food truck builders cannot. For this reason, we have become the supplier of many of these companies when they need metal components fabricated. Not many food truck builders own machines like these: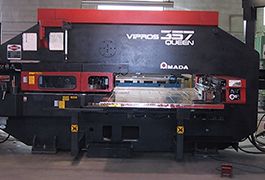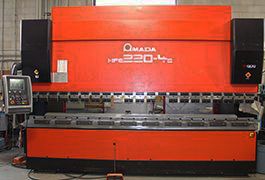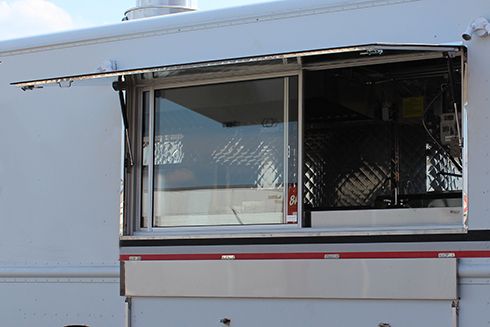 Insulated Pop-Up Awning / Canopy
Using our experience as a coffee truck builder we fabricate an insulated pop-up awning for use on our food trucks. These closely resemble the large "serving door" on our coffee (lunch) trucks. The pop-up awnings are constructed with a strong aluminum frame, foam insulated, then clad with an aluminum skin on the exterior and a stainless steel skin on the interior. This smooth aluminum exterior allows for easy applying of graphics wrap.
The exterior is designed to be flat and flush to the truck body without any hardware to obstruct your graphics wrap. This also prevents any tampering with exterior locks.
The pop-up awning is fastened to the truck body with a heavy duty stainless steel piano hinge. We also install a rain trough with a weatherproof seal. The whole awning is supported by two heavy duty gas springs. These are no ordinary gas springs, they are made in Germany, and designed for heavy usage.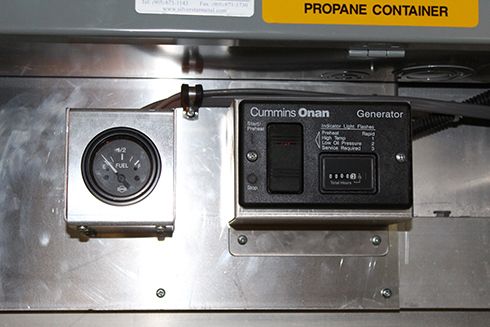 Onboard Generator Fuel Gauge / Remote Starter / Hour Meter
It would be quite a nightmare to run out of generator fuel while a long line of customers are waiting for their food. Without generator power you cannot operate.
We mount a generator fuel tank gauge right in the drivers cabin so you can periodically check your fuel level. The remote starter for the generator is conveniently located right beside which also allows you to see the usage in hours. This is important because the leading cause of generator failure is poor maintenance.
The onboard generator is considered to be the 'heart of the food truck'. Without the generator you cannot run your business. This is why we always recommend a high quality generator. Please see our FAQ page for more information on choosing a high quality generator.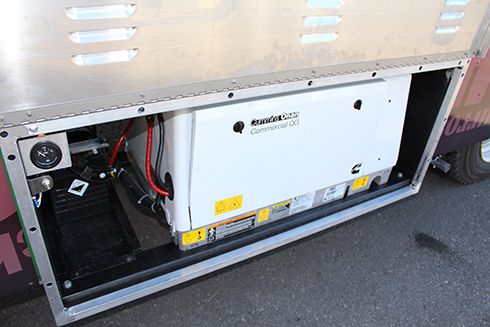 Underbody Skirt Mounted Generator Compartment
The onboard generators we install on our food trucks are typically installed in the driver's side skirt under the body. We found this to be the most optimal location to save space on the vehicle. The generators are mounted securely to a steel undercoated frame that is welded directly to the chassis.
Some builders put the generator on the rear bumper. This prevents any usage of the rear door. Other builders create a "generator box" inside the food truck. This is better but limits your kitchen space inside the truck.
We choose Cummins Onan generators because of their excellent quality, warranty, and service. They are also the quietest in the industry. Parts for these generators are readily available all across Canada and the United States. Since this is such a core component of the food truck we recommend using a high quality generator. Cummins has more than 70 years experience in generators that meet the toughest demands for rugged applications where reliability, uptime and peak performance are crucial for success. It is for this reason the same Commercial Mobile generators are used for Police, Fire, Utility, and Telecommunication vehicles.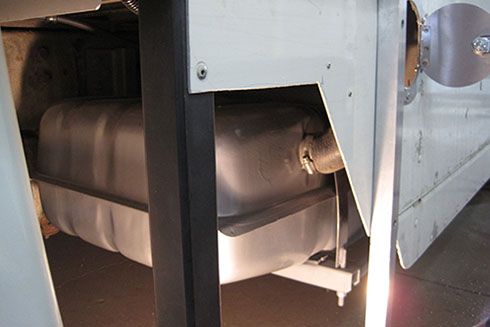 Underbody Skirt Mounted Generator Fuel Tank
Most residential personal use generators have an integrated fuel tank of 16-Litres. With 16-Litres you might get about 6 hours of operating time with an efficient generator.
Installation of a Commercial Mobile generator will require an external fuel source. This is ideal since you should focus on your customers, NOT how much fuel you have left. We use a 114-Litre generator fuel tank that is mounted under the body. At 2.8-Litres per hour (half-load) you will get over 40 hours of operating time from the fuel tank.
All of our fuel tanks are undercoated, securely mounted to the chassis, and have a lockable fuel door. They are easily filled at any gas station. We can even install a fuel level gauge inside the driver's cabin (optional).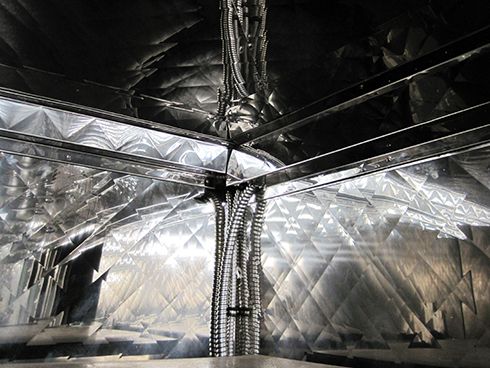 Armoured BX Cabling
With our years of experience we know the Canadian electrical code thoroughly. All the wiring is armoured BX metal sheathed and concealed whenever possible with wall extension panels. This keeps the cabling out of sight and allows for easy cleanup. When its time to clean the interior you simply wipe the wall extension panels.
With other builders the cabling is run carelessly anywhere along the walls sometimes without clamps. This disorganized mess is not concealed with other builders. The grease that will eventually line the interior will stick to everything including messy cabling.
Because we follow the Canadian electrical code we are able to provide an Electrical Safety Authority (ESA) approval with each and every food truck. As an owner you can rest assured that there won't be any hazardous electrical issues with our work. This is important since as an owner you are to follow all safety standards or your insurance may not cover you in the case of an accident.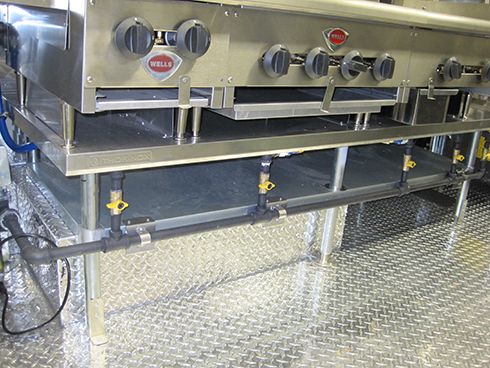 Black Iron Gas Line Pipe & Mounting
We use rigid black iron schedule 40 piping for the propane lines. These pipes are cut to size and threaded by our certified gas technicians. We handle this complete job in house with our certified gas technicians since we know hydrocarbon fuel is extremely dangerous.
Some builders attempt this dangerous installation without any experience. Others will outsource this step to a HVAC service company. Although an HVAC service company uses certified gas technicians they are not aware of the additional challenges when working with a mobile food product. Our gas technicians have been doing this for over 25 years.
Our gas lines, burners, and pilots are all securely mounted. Gas-fired equipment is not designed for mobile usage, so it is imperative to perform this step. A dislodged burner will leak propane fuel and can cause a terrible accident.
All of the food equipment is mounted securely in the vehicle with heavy gauge brackets and clamps. We know that since this is a mobile product all the equipment should be secured properly.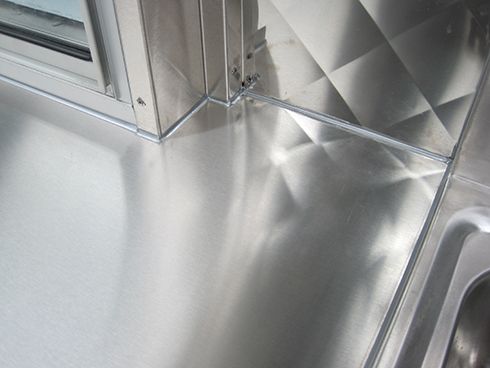 Finishing Touches
A food truck designed and built by Silver Star Metal Fabricating is easily identified by its finishing touches. We build our food trucks with enjoyment and pride. Naturally we won't rush to finish them and release a substandard product. We take the time to do the job right! Our etched logo can be found on all our food trucks which signifies our commitment to quality and higher standards.
The following details are included on all our food trucks:
Silicone Sealed Counters, Sinks, and Floors
Custom Stainless Steel Shelving
Food Equipment Drip Tray Clasps
Steel Undercoated Rear Steps
Rear Bumper Rubber Extensions
Automatic Generator Battery Charger
Undercoated Generator Fuel Tank
Driver Cabin Mounted Remote Control Starter
Driver Cabin Electrical Receptacle
Sliding Window Screens
Identification and Warning Labels
Food Truck Operations Manual
Detailed Plan and Sectional Drawings
Propane Inspection Certificate (Free for 2 Years – New Builds Only)
The Best Warranty & Service In The Industry!