Sinks | Types & Shapes | Pricing & Lead Times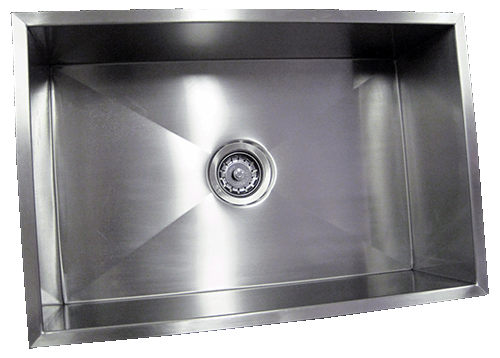 Stainless Steel Sinks were first introduced in commercial kitchens. They offered a clean, sanitary, and durable washing bowl that can easily stand up to the abuse of a busy commercial kitchen environment. They were quickly adopted by modern high-end homes to replace plastic moulded sinks that were easily damaged with knives, forks, and other kitchenware. Today stainless steel sinks are used in the majority of kitchens all around the world. These stainless steel sinks also complement the increasing usage of commercial appliances in residential kitchens. They remain in the same condition as when they were first installed — no staining, no fading of colour, no chips, no cuts, and no gouges. After years of usage the only signs of wear and tear are micro scratches which will blend together to form a matte type of finish.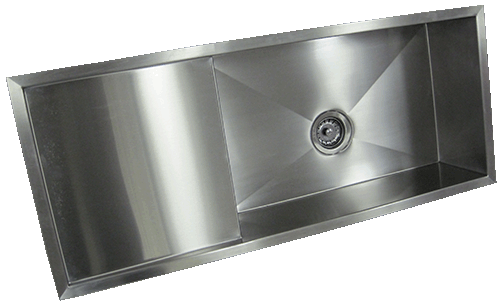 Stainless steel is non-porous material that can be easily cleaned and does not have areas where mould and bacteria can grow. The majority of our sinks are designed with radius corners but we also offer zero radius sinks. Since sinks are the most common place for mould and bacteria to grow in the kitchen, a stainless steel sink provides the homeowner with the best solution to combat these germs. Stainless steel is also nearly impossible to stain and is resistant to heat. This means that any pots and pans can be put in the sink straight from the oven or stove without any worries. To keep stainless steel sinks in excellent condition simply clean them with soap and water after each use and rinse them with hot water.
Silver Star Metal Fabricating builds stainless steel sinks to your custom specifications. They are usually built in one piece and include a 3-1/2″ drain and strainer basket. Stainless steel sinks can be fabricated in any size and can integrate a sloped drainboard. The metal is cut and formed into the desired size then welded and polished to a brush finish. Sinks are usually made from 16 gauge (0.060″) stainless steel however 14 gauge (0.075″) stainless steel is also available for heavy duty applications. Most sinks are made using type 304 stainless steel however type 316 stainless steel is also available for additional corrosion resistance.
Learn more about the types of stainless steel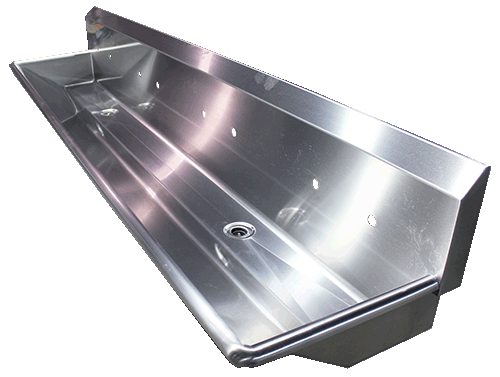 How long does it take to fabricate a stainless steel sink?
Stainless steel sinks are designed, fabricated, and polished right at our Mississauga, Ontario manufacturing plant. Of course fabrication times will vary depending on the size and complexity of the sink. In general we can have a typical sink fabricated in about 1 week from the time of order. For more information see our pricing & lead times.