Countertops | Material Comparison | Edge Finishing | Sink Options | Types & Shapes | Pricing & Lead Times | PDF Brochure | How It's Made
What types of edges are available?
Stainless Steel Counter Tops are available in many different types of edges. The most commons are Straight 'Box' Edge, Raised 'V' Edge, Marine 'Non-Drop' Edge, and Bullnose Edge. Each edge presents a different style and look. The most common edge is the Straight 'Box' Edge which we use on 90% of the countertops we fabricate. Each edge is described in detail below: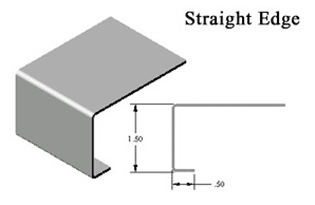 Straight Edge
The straight edge finish, also known as the 'box edge', is the most common countertop finish. It is a simple yet elegent finish that will match the styling of almost any kitchen. While it doesn't provide any non-drip properties like some of the other finishes, it does provide a flat work surface along the edges. The edge profile is fully customizable to your specifications. Standard sizing is a 1-5/8″ drop with a 1/2″ return. Typically countertops are mounted on plywood or MDF which makes the countertop solid and provides noise dampening. Most countertops are mounted on a 3/4″ plywood base with a 3/4″ 'build-up' along the finished edges. Depending on the application we may use wood treated for outdoor use or refrain from using wood altogether if the environment is not suited for wood.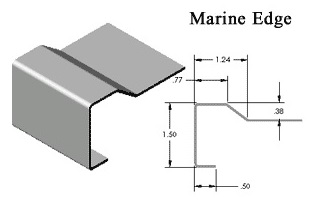 Marine 'Non-Drip' Edge
The marine edge finish is common in busy commercial kitchens. Its main benefit is that during the workday the preparation surface will not allow any liquid to flow over the edges. The liquid will collect on the countertop surface and will require periodic wiping into an integrated sink or soaked up with a towel. The edge remains stylish and pairs well with commercial kitchen appliances. Any professional cook or chef will benefit greatly from this edge design. This edge profile offers some customization.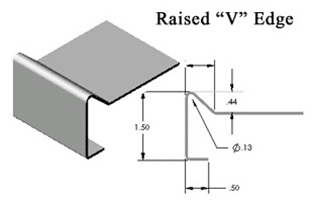 Raised 'V' Edge
The raised 'V' edge finish is essentially a first generation non-drip edge. The marine edge is the evolution of this edge design since it has a flat top which is more friendly as a work surface. The raised 'V' portion of the profile remains as a soft edge but is somewhat pronounced compared to the marine edge. This protruding 'V' can be intrusive to some professionals and chefs. This edge offers some customization.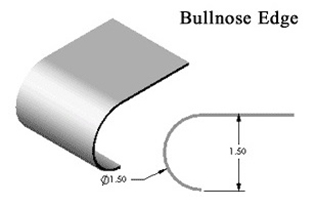 Bullnose Edge
The bullnose edge finish is an edge design that is common in commercial kitchens that have heavy foot traffic. It does not offer any non-drip properties however it does have a large rounded edge that pairs well with some kitchen designs. All edges on our countertops have an oversized radius that prevents bumps and bruises when working in a busy kitchen however the bullnose edge is more forgiving. This edge profile offers no customization. It is offered as a 1-1/2″ diameter edge. The corners are also finished with a 1-1/2″ diameter quarter insert which is fully welded and polished.