Countertops | Material Comparison | Edge Finishing | Sink Options | Types & Shapes | Pricing & Lead Times | PDF Brochure | How It's Made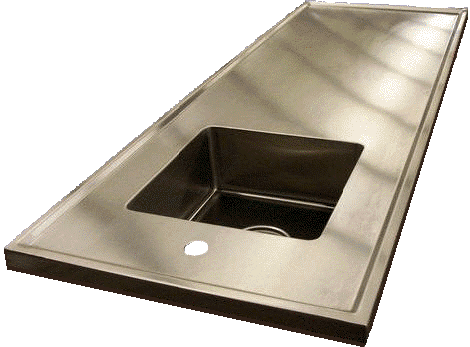 Stainless Steel Countertops are for the most part used in professional kitchens. However, they offer a clean, fresh look for the home as well. Modern home owners are choosing more commercial appliances and Stainless Steel Countertops can add the finishing touch to match. They remain classy and always look stylish, they coordinate well with many cabinet styles styles and colours. Whether you choose light or dark cabinets, stainless steel offer a clean sharp look that remains timeless. Culinary professionals have known for years that stainless steel countertops are extremely durable. They can last in superb condition for a long period of time. Because of this, stainlesss steel is the only choice for commercial kitchens. The neutral tone of the stainless steel surface will reflect artificial and natural light and their colours, which make the kitchen appear more spacious, brighter, and thus more attractive.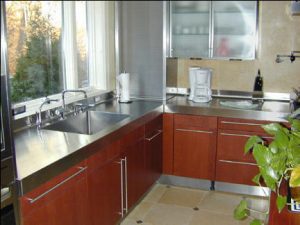 Since stainless steel is non-porous the countertop can be easily cleaned and does not have areas where mould and bacteria can grow. This antibacterial property affords the homeowner the most hygienic surface for food preparation. Stainless steel is also nearly impossible to stain and is resistant to heat. To keep the stainless steel countertop in excellent condition simply clean them with soap and water after each use to remove any particles of food that may remain then rinse them with water and wipe them dry.
Silver Star Metal Fabricating Inc builds stainless steel countertops to your custom specifications. They are usually built in one piece, and commonly have an integrated sink and backsplash. Stainless Steel Counter Top edges can be finished in Straight 'Box', Marine 'Non-Drip', Raised 'V', or Bullnose profiles. The metal is cut, formed, and mounted to a 3/4″ plywood substrate. This helps to prevent any dents and absorb noise. Joints on stainless steel countertops are professionally welded, ground, and then polished. Although there are many finishes available the most common is a brushed (#4) finish. Countertops are usually made from 16 gauge (0.060″) stainless steel however 14 gauge (0.075″) or thicker stainless steel is also available for heavy duty applications. Most countertops are made using type 304 Stainless Steel. Counter-tops can also be made using Type 316 Stainless Steel for additional corrosion resistance. Learn more about the types and finishes of stainless steel.
How long does it take to fabricate a stainless steel countertop?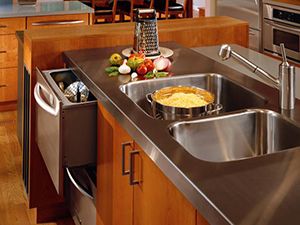 Stainless steel countertops are designed, fabricated, polished, and mounted on a wood substrate right at our Mississauga, Ontario manufacturing plant. In many circumstances site measurements must be taken in order to achieve optimum results. For complicated shapes and sizes, it is best to use a wooden template. Once we have this wooden template we can extract the dimensions and create the stainless steel top to fit. This is referred to as cladding. Fabrication times vary depending on the shape, size, and options of the countertop. For more information see our pricing & lead times.