Cabinets | Upper Cabinets | Base Cabinets | Built-in Wall Cabinets | Open Cabinets | Display Cabinets | Pricing & Lead Times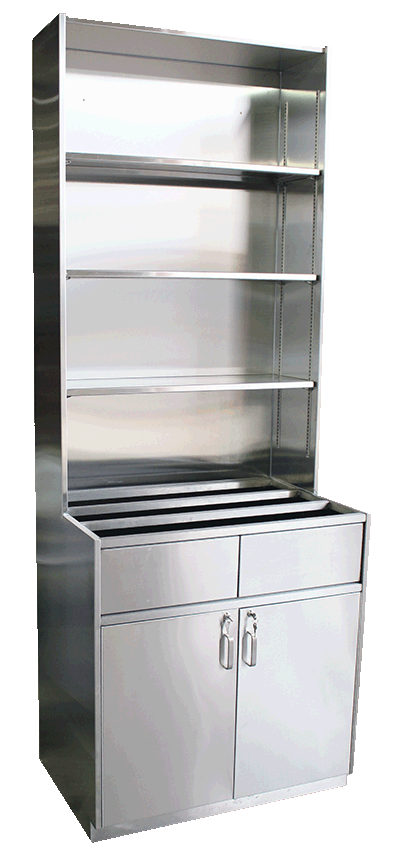 Stainless Steel Cabinets are perhaps the most defining characteristic of commercial kitchens. They have the ability to withstand tough environments where other materials show signs of wear and tear within months of use. Stainless steel is a strong material that is resistant to moisture, corrosion, fire, heat, cold, and of course stains. In addition to these benefits it also provides a sanitary surface since it does not have places where mould and bacteria can hide. Since these cabinets are fabricated entirely from stainless steel they are also resistant to water damage and any pests such as insects and rodents. All of our cabinets are built strong and are designed to last a lifetime. They require minimal maintenance and will complement any design style whether commercial or residential.
Where are stainless steel cabinets commonly used?
Although stainless steel cabinets are most commonly used in kitchens they are also used for many other applications and their use has been expanding rapidly. Below find other common places where you can find stainless steel cabinets.
Restrooms
Hospitals
Airports
Laboratories
Medical Offices
Bakeries
Laundromats
Dry Cleaners
Food Processing Plants
Industrial Plants
Utility Vehicles
Mobile Food Service
Residential Garages
Outdoor Cooking Areas
How are stainless steel cabinets fabricated and installed?
Most stainless steel cabinets are fabricated entirely of type 304 stainless steel. In some instances type 316 stainless steel is utilized for better corrosion resistance. All stainless steel cabinets are fabricated in our Mississauga, Ontario plant. The fabrication process usually begins as a sketch or an architectural drawing. In some cases stainless steel cabinets require an on-site measure. This is usually scheduled after a firm quotation has been provided and the project has been approved. Once the on-site measure has been completed and the specifications have been finalized we supply shop drawings for approval. This ensures that all parties have a clear understanding of all the details before fabrication begins.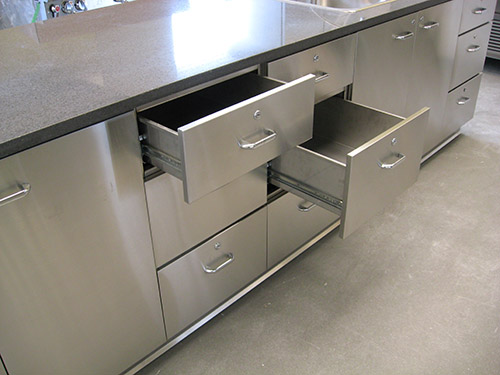 Installation of stainless steel cabinets is fairly straightforward. They are usually fabricated in sections not larger than 60″ in length. The cabinets are brought to site and placed in their final positions. Preparations are made beforehand on how they will be mounted to the floor or walls. In many cases we provide brackets and hardware to securely mount the cabinets. Once the cabinets are mounted any remaining work can be completed such as plumbing of a sink and installation of shelves.
What options are available for stainless steel cabinets?
Silver Star Metal Fabricating builds stainless steel cabinets to your custom specifications. The cabinets are built from several components which are laser cut, formed, and permanently welded into place. This ensures a long lasting product that has little chance of coming apart even after decades of heavy use. We use only the best quality hinges, drawer slides, pull handles, knobs, magnetic catches, and locks. Our cabinets are designed to be both aesthetically pleasing as well as strong, tough, and durable. Since these cabinets are custom designed and built you have the option to control the layout of drawers and doors as well as the length, width, and height. We have dozens of pull handles and several types of drawer slides which are available to dress up the cabinet for an industrial, commercial, or even a residential look. The base of the cabinet typically includes stainless steel adjustable bullet feet with a removable kick plate but this can also be customized.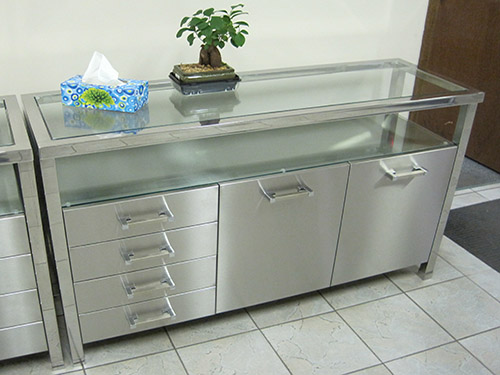 How long does it take to fabricate a stainless steel cabinet?
Stainless steel cabinets begin fabrication once shop drawings have been approved. Of course fabrication times will vary depending on many factors such as size and quantity. In general we can have a standard cabinet with drawers and doors completed in about 2 weeks from the time of order. For more information see our pricing & lead times.